Meet the team behind Extreme Duck Racing
A quick summary of who we are and our backgrounds
Matthew France – Head Duck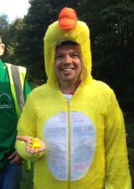 I created the idea for Extreme Duck racing last year after I saw a simple poster in Liverpool advertising a duck race. I was working as a store manager for Tesco, where I had been for the last 12 years. I have always had lots of ideas for businesses and started when I was 17 when I opened a mobile car valeting business whilst I was at college.
After following the normal educational route  – college, polytechnic  – I embarked on my retail career with Aldi and then Marks & Spencer. I've lived in 22 different places and opened a further two businesses Nutrilicious (a fast food concept that was healthy) and then latterly the first Foot fish spa in Liverpool City Centre.
I've had quite an amazing life so far and my friends always can't believe I'm still smiling with the trials and tribulations that I have had  – but everyone has their own story.
When I passed the magic 40 years old mark I really reflected on where I was in my life and what would be my legacy. Although you need money to pay the bills, more and more money was not going to make me happy – it was then that I knew I wanted to make a real difference and came up with the idea of the Centre of Entrepreneurship – an educational organisation that was available for anyone to apply to with or without qualifications. All they needed was an enthusiasm and idea to make a difference and they could learn how to set up and run a business by doing it, but without the fear of losing their "shirt".
At worst case, they would leave after 3 years with amazing experience on their CV or at best case a profitable business that operates with sound values of trust and integrity.
I am passionate to do this in Liverpool, given that it is so reliant currently on the public sector and has so much natural creativity.